The main event of my trip to Chile was to hike in Torres del Paine National Park. Meredith and I first started discussing this trip probably a year ago during our last trip. It was one of those things where you say 'One day I'll go to Patagonia…' But of course with me it's never just 'one day I'll go.' So 'one day' turned pretty quickly into 'when' and soon we were making plans.
Because I had committed to my research internship until mid March, that meant we wouldn't be going until after that. It worked out perfectly because as it turns out thousands of other people had the same idea as us, but they decided to go in peak summer season. The park had a 35% increase in tourism this year and the camps and trails were crawling with people during January and February. At one camp, some idiot thought it would be a good idea to poop upstream of where others were getting their water for cooking and drinking and quite a few people ended up getting sick. Really glad we missed that.
There's many ways to enjoy Torres del Paine, including staying at nice hotels, doing day hikes and going horseback riding. But when you're young and capable, the best way is to do a multi-day backpacking trek. The two main routes are a 4-5 day W trek (because the trail is shaped like a W) and the longer 7-9 day O circuit (I'm sure you can figure that one out). I knew I wanted to the full circuit and it didn't take Meredith much convincing to agree.
Even though March is the end of summer we thought since Patagonia is at the end of the Earth, this would mean we'd be arriving into a blizzard. But actually the temperature wasn't too different from fall back home. For some reason the interwebs didn't provide a whole lot of logistical info, but luckily I have a friend Sarah from Virginia Tech who just happens to work as a guide down here. She was able to get us passes to get onto the O circuit which we didn't even know we needed (thanks Internet) but that no one ended up asking for anyway.
FYI the correct pronunciation of Paine in Torres del Paine is *pine-ay* not *pain* like some people were pronouncing it. Speaking of, it wasn't as bad physically as I thought. I'm so glad we did the O. Eight days is the longest I've ever trekked and we weren't sure how we were going to handle it, but it was great. I fell just the one time and although the first couple days we a bit slow and people were passing us, by the last two days we were passing a bunch of people and I even ran the last half mile for the hell of it.
After stupidly trekking with my computer on our 3 day hike last year in New Zealand, I vowed to pack ultra light this time around. I took only exactly what I needed. This meant one 'wet' set of clothes for hiking that could get wet in the rain or from sweat and one 'dry' pair of clothes for camp. The majority of my bag was made of up my sleeping bag, sleeping pad and food for 8 days. I was so happy because my pack was very light. I'd say it started at no more than 20-22 pounds and by the last day when all the food was eaten, it was probably around 15-16, which is why I ran the last bit.
We got really lucky with the weather. When we looked at the forecast it was predicting rain for 7 out of 8 days, but in the end it only rained once or twice for 10 minutes. We did have snow one day, as well as 40 mph or higher winds the day we had to go over the John Gardner pass. I later overheard someone who had crossed it the next day say they had beautiful weather, but I could barely open my eyes without getting pelted with snow or rocks. I had also stepped knee-high into a mud pit on the way up and both of my feet were frozen to the bone. I was convinced at one point I was going to get frostbite. As soon as we it below tree line in the other side, we started to thaw out and we could enjoy the beautiful views of the massive Grey Glacier. That was the most challenging day, but well worth it.
Most of the campsites in the park are actually privately owned and we had to pay around $10 to camp there, but it meant there were showers with hot water, a place to cook, but most importantly they had little stores that they sold stuff like WINE and BEER. Wine from a box, but still wine, which after 8+ hours of hiking a day tastes like heaven. These places, called refugios, also have some dorm rooms for those who didn't want to camp, rented out equipment to those wanting to camp but not wanting to carry a tent a sleeping bag and/or offered dinner and breakfast at inflated prices for those not wanting to cook. Meredith and I only paid the camp fee though, as we brought all of our own equipment and food.
The backside of the O was so much less crowded than the rest of the trail where it met up with the W. We didn't have to worry about the trail or the campsite being crowded. My favorite campsite was one named Dickson, which was our second night. The view coming into the site was beautiful – looking out over Dickson Lake and Glacier. Meredith and I were asked to be models for this girl's jewelry website. So we modeled earrings and necklaces by the lake while she took pictures. The vibe of the camp was also really laid back; the guys working there were playing reggae music, people were walking around barefoot, we played a bit of futbol at one point after the sun had gone down.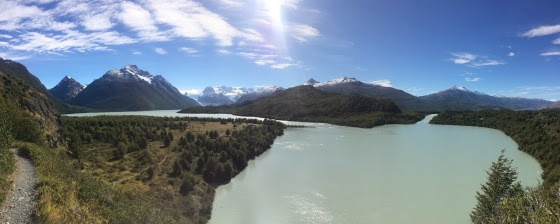 And the views over that side were beautiful. Some highlights were Dickson glacier, Valle de Los Perros, and the view from the top of the pass, that was if you managed to see it without getting snow or rocks blown into your eyes or mouth. On the W, glacier grey, lake Pehoé, French valley, Nordic lake and the Torres were all amazing. Even the regular valleys and the forests. Everything was gorgeous. Meredith would sometimes complain about how slow I'd go but it was hard to not stop every so often to just gawk at how insanely beautiful everything was. And of course to take a picture or two.
Besides the insanely beautiful scenery, my second favorite part was the people. We met a really great group of people. If we had started one day earlier or one day later, I think our entire experience would have been different. A few of the nationalities of the people on that trip were Chilean, American, Guatemalan, German, Australian, Italian, Swiss, Austrian, French, English, Belgian… The Europeans were heavily represented. That week was Semana Santa, which is a holiday in Chile (I think) so we met a handful of Chileans that we probably wouldn't have if we had gone at a different time.
Some people were hiking alone, others had come in groups of 2 or 3, but by the end of the 8 days we were all friends and we had a huge family dinner back in Puerto Natales that Sunday night when we got back, which happened to be Easter. There were about 20-25 of us at dinner. And the restaurant was amazing – it was called La Picada de Carlitos and I would travel back to Patagonia for that restaurant alone. We shared steaming hot plates of lamb (which I was told is typical of the region) with super buttery potatoes, we probably consumed 20-30 bottles of beer and wine. It was just yum. And then of course we went and shut down the one bar that was open in town. It was a good way to end a great trip.
More to come!